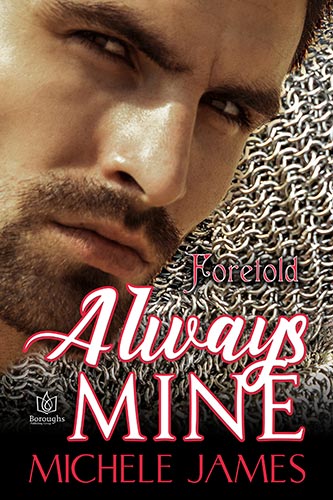 Always Mine Book 2 in the Foretold Series
FOREVER HER MAN

They'd been together since they were babes. Wil and Issy, joined at the hip. Closer than best friends, they knew each other's minds. They were family.As teenagers, Wil knew Issy would be his forever. But the fiercely independent Isabeau couldn't see the future Wil imagined.He left to become the King's Guard, and returned home after seven long years to fulfill a mission for his king. Still harboring a bruised heart, he could barely stand to be around Issy knowing how they'd left things. Now a woman in her own right, she was more beautiful and more independent than ever.What he couldn't know was how she felt about him, and how time had seasoned her plans for the future.
Buy links:
https://boroughspublishinggroup.com/books/warrior-mine
https://www.barnesandnoble.com/w/warrior-mine-michele-james
https://www.smashwords.com/books/view/1163291
https://www.kobo.com/us/en/ebook/warrior-mine-6
Like this? Read Forever Mine— Book 1 of the FORETOLD series

Read more by Michele James
All books by this author can be read as their own unique historical romances with elements of fantasy. If you like this book, you will love the DESTINED series by Michele James.
The DESTINED series
welcomes you with a tapestry
backstory of love through the ages:
The Stallion & The Tigress (Book 2)